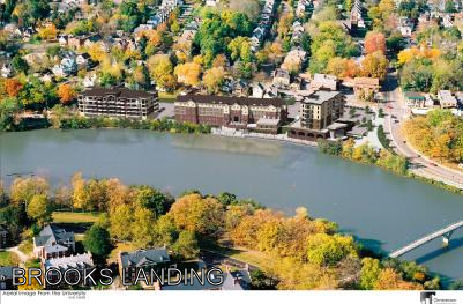 Project Description
Brooks Landing, Including Hotel And The University Of Rochester Medical Offices (Rochester, New York)
Client:
Christenson Corporation
Design-Build:
BKV Architects Victor Excavating
Costich Engineering, P.C.
Size and Type of Development:
10 acres to be utilized during the design phase of a waterfront development, including hotel, restaurant, retail, office space and waterfront amenities.
Survey:
Our survey team provided surveying and mapping, and played an integral role in this multi-million dollar project to improve the west bank of the Genesee River and the infrastructure of South Plymouth Avenue in Rochester. After researching available mapping a boundary survey was completed to locate existing monumentation and establish control and ties.
At 50′ intervals field topography was performed for existing features between right-of-way lines for cross-sections. This information was then merged with GIS supplied by the City of Rochester. Additional responsibilities included location of physical features, utility investigations, inverts, field edits and quality review.
Site Plans:
Preparation of site plans based upon previously prepared survey and input from Architect. The plans included cover sheet, notes, legends and pollution prevention notation sheet, site plan, utility plan, grading and erosion control plan, detail sheet and profiles. Preparation of landscape plans to include design of landscape and hardscape surrounding the proposed use, details of plantings and specifications. Lighting plans were also prepared which included specification of specific lighting and poles, appropriate details and isofoot candle plots to determine the overall light coverage. A resubdivision plan was prepared to resubdivide properties in accordance with the City of Rochester and Monroe County standards.
Site Engineering:
Costich Engineering prepared an engineer's report to outline water and sanitary sewer, design requirements, flows and capacity calculations for use in municipal approvals. Completed a Long Form Environmental Assessment form to meet with State Environmental Quality Review requirements. Costich Engineering attended meetings with City officials and
prepared presentation materials.
Construction Documents:
Costich Engineering prepared an engineer's estimate, construction plans to reflect construction related notes/limits of responsibility. Bid documents, proposal sheets and bidding to local site contractors were also prepared for this project.